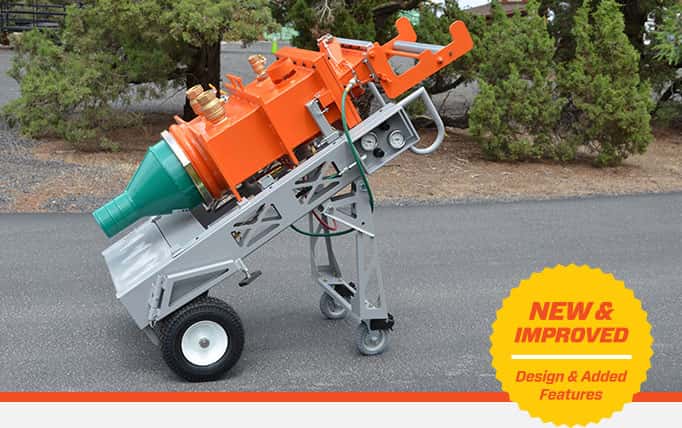 THE SHOOTER® 12" Model
With hand truck portability and many more new features.
THE SHOOTER® 12" Model features an integrated, rugged hand truck making it more mobile and the perfect tool for municipal CIPP work. With tight easements, backyards, and off-pavement situations becoming more common in today's ever increasing need for rehabbing aging infrastructure, THE SHOOTER® 12 is the perfect solution. Whether on two wheels or four, THE SHOOTER® is a sturdy, functional piece of equipment that will be an asset to any construction business for many years to come.
THE SHOOTER® now has an onboard lubrication system, greatly increasing efficiency and eliminating the need for a person dedicated to oiling the liner. Once the lubrication air and oil pressures are set, both sides of the liner are evenly coated while using far less oil than with other methods. THE SHOOTER® has a new knife gate for after the liner tail passes, effectively eliminating air loss out the top for an efficient second half of the install. After the install, a separate steam cap is used allowing THE SHOOTER® to invert another liner while the first one is being cured. Curing can also be done directly through THE SHOOTER®. An optional water cure flange is also available for situations requiring water instead of steam.
Optimizing the 12" model's usability was a priority in the design. The top funnel assembly has a smooth, ball-bearing roller and the assembly can swing forward and out of the way if desired when transporting THE SHOOTER®. A conveniently located screened storage bin provides easy access to wrenches, vice grips, and other tools common to CIPP jobsites.